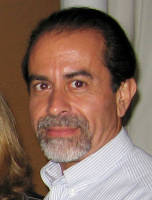 Hi and thanks for stopping by! Just a small note admitting that I've had lots of help creating these images.
Help from the Creative Directors, Art Directors, the Art Buyers, the receptionists who track them down, the people who sign those wonderful prizes called checks, and my most intimate collaborators.
Some I would like you to know by name because they deserve as much credit as I do.
JOFFRE ALVAREZ has worked with me for more than 20 years and has saved me from disaster more times than I want to remember. GLORIA PINETTE and GERARDO CALDERON are superb Food Stylists. MORRIS LOPES makes props for me with an uncanny ability and is always on schedule. DAVID LANG, INGRID ROMAN, TATY LOPEZ, BLANCA NIEVES & ABADHA LILA are true artists of makeup. RICA GROENNOU can come up with any location needed and has been known to ward off thunderclouds by sheer will. ANAÏS MELERO and JACLYN ODELL won't ever give up on finding the right prop or wardrobe.
But tops on my list is MAICA, my wife. She paid the bills while I did my best not to lose the scholarships which allowed me to graduate from the Art Center College of Design in Pasadena. She puts up with my craziness and the weird and erratic schedules I keep. She is my North Star!
Another person that has had a great impact in my professional and personal life and who has all my admiration, gratitude and friendship is DAN MARGULIS. One of the most interesting and kind persons that I have met. Most of what I do well in post production, I owe to his teachings on color correction, channel mixing and PS wizardry.
If you have any questions about the images shown here or anything else photographic I might help you with please don't hesitate to email me.
To you and all of yours, my most sincere wishes for Peace, Health, Love, Gold and Time!